Match Info & Schedule

FORMAL CLUB MATCH SCHEDULE :

2020 AIRGUN SCHEDULE:
April 12 Field Target CANCELED
May 10 Field Target
June 14 Field Tartget
July 12 Bench Rest
Aug 9 Bench Rest
Sept 13 Field Target
Oct 11 Bench Rest
Nov 8 Field Target
Dec 13 Field Target
ALL Match Participants MUST sign the DeSoto Gun Club
"Match Waiver"
form.
No Exceptions
IF you are not a member of the Desoto Gun Club AND you wish to observe or participate in a Desoto Airgunners Event, you MUST complete a
HOLD HARMLESS release form: click here
and give it to the Match Director upon entrance to the facility. Any shooter under the age of 18 must have an accompanying parent.
Generally, Sight-in ~ 9:15 AM Match begins 9:59 AM Bench Rest Shoots generally begin 30 minutes sooner
For more match details, contact match director
E-mail: INFO AT desotoairgunners DOT net.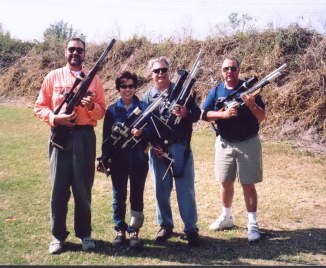 Shooters showing off their tools